Welcome to Shay Mac's Website !!

Shay Mac was born and raised in Dublin, Ireland. Shay was lead singer with the very popular "Rafferty" before embarking on his solo career and performing on the cabaret scene in Dublin city. Shay then was in London England for 8 years,on the music scene, all over London with great succces. Shay then went to USA. shay  has been performing in the Tri-State area as well as Chicago and Boston. Shay's repertoire includes a mixture of Irish ballads, country, rock/pop  and middle-of-the-road songs. 

Shay's 2011 CD  was quite successful. Shay has appeared

on the popular Yonkers T V show

Emerald Focus on a few occasions 

Shay has also appeared on RTE's (Radio Television Eireann) Late Late Show.

Shay is available for private parties,     corporate functions, pubs, clubs..basically anywhere you want to have a great time. He can play as a solo, duo, trio or larger, depending on the venue.

Shay Mac  

   New C D

Coming in the near future.

Shay's C. D. Is available,You can listen to some of Shay's Tracks From His

C. D.  on his Disography page.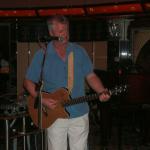 1.GALWAY  SHAWL

 2.ROSE OF TRALEE

 3.WILL YOU GO LASSIE GO 

 4.THE OLD MAN

 5.TOWN I LOVE SO WELL

 6.NOREEN BAWN

 7.BACK HOME AGAIN

 8.RARE OL TIMES

 9.FOUR GREEN FIELDS

10.ANNIES SONG

11.COUNTRY ROADS

12.LEE ROY BROWN

13.PEACHS AND CREAM

14.HILLS OF DONEGAL

Recorded @

 Shay Mac Studios